Greetings, Gorgeous!
You're probably already aware of the fact that beautiful locks of hair are the result of a regimen of high quality products, frequent brushing and care, a trim on a regular basis, and the routine intake of essential vitamins and minerals.
**As an Amazon Affiliate, I earn a commission, at no extra cost to you, on qualifying purchases.
But…did you know that there are actually some well tested reasons NOT to wash your hair every day?
Yeah…this concept took some time to really sink in with me because…well…gross. ?
That was my initial thought. However, naturally produced oil is a lifeline for your hair- especially if it is dry and brittle.
Currently, I'm in the grueling transition from brunette to blonde.
It has taken a good many trips to my stylist to see the fruit of our labor..well, mainly her labor. The fruit of my patience, I should say.
I should also mention that it is almost impossible to achieve a pale blonde without going through an orange/brassy stage.
And I'm not talking about fashion orange. I'm talking the orange that NOBODY wants.
Anyway, I began purchasing purple shampoo after the first lightening process because I, as a stylist, know that a good purple shampoo can really help to tone out a little of the brassiness in the hair. My favorite is Redkin Color Extend Blondage, because unlike others of its kind, it doesn't smell funny. Smells good actually ?.
The point I'm trying to make here is that it is very tempting to wash my hair often with the purple shampoo to try to eliminate the brassiness (orange tint), AND might I mention…that when you've got blonde hair, it can tend to look a little bit greasy after about a day.
But shampooing every day is not the answer. Here are a couple of reasons that it is best to wash hair only every two to three days:
Hair Needs The Naturally Produced Oil
Excessive shampooing of the hair will ultimately strip it of the needed sebum (oil) that is naturally produced.
This needed oil actually protects the hair's cuticle by sealing it.
If you shampoo every day, or even every other day in some cases, the cuticle of the hair strand can open, causing the hair to look frizzy and damaged.
This is actually a similar concept to the one I discussed in my post about moisturizing dry skin. Our body as a whole needs the oils that it produces…just not an over accumulation of them.
The product that can really save the day here if you feel as though you have super oily hair after only a day or two (and some of us definitely do), is a really nice clarifying shampoo.
Clarifying shampoos will attach to the excessive build up in your hair and remove it.
If you run your hand through your hair and you feel like you might be able to start dinner with the residual build up, its time to get a clarifying shampoo.
This will make a world of difference. And, as an added bonus, it will also work to strip out the minerals sometimes left in the hair from using hard water in the shower.
ALSO…A great dry shampoo can help in extending the time between washes by absorbing oil in the hair, particularly along the hairline.
Do You Use Dry Shampoo?
Yes, I Love Mine! Show Me What Else Works!
Washing Hair=Styling Hair
Most of us, after washing our hair, will style our hair.
Using heat.
Using damaging heat.
Now, don't get me wrong, it's completely OK to style your hair with heat…I personally couldn't go without it all the time.
But excessive use of heat styling at high levels of heat, will inevitably cause breakage and damage. If you crank your curling iron all the way up to the highest heat setting, and do that every single day…there will probably be some breakage occurring.
There are specific products used to combat heat breakage, but it is still best to try not to scald your hair every day.
If washing hair every day is a non-negotiable for you, try washing in the evening and allowing hair to air dry.
Besides…natural is the new "in" thing. And I'm sure it looks great on you!
Quality Products Are Not Cheap
If you are using a salon quality shampoo, conditioner, and styling product, you know that these aren't products that you want to throw down the drain…no pun intended.
Washing hair frequently means doubling and sometimes tripling the amount of product used.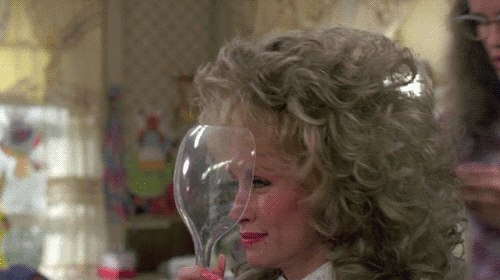 Professionally, I can vouch for the fact that salon products have higher quality ingredients and make a huge difference in the way your hair looks and feels, and if you are spending the money on them to have great looking hair, you won't want to waste them.
Well, and not to mention using these professional products usually means that you shouldn't have to wash as often.
You're Shortening Your HairColor's Life
When you have got haircolor in your hair (professional or drugstore), the pigment will fade twice as fast if you are washing every day.
Permanent haircolor may take a little longer to fade, but if the color is demi- or semi-permanent…it will essentially wash away.
When you are paying to have your hair colored…this is not something you'd want!
Dry, Rigid, Brittle Hair
None of these are adjectives that you would like to be associated with your hair, trust me.
As mentioned earlier, frequent washing leads to inevitable dryness.
The oil is washed away, and though you may feel good about it shortly after washing, after drying and styling hair you will find that the texture is much more rigid over time.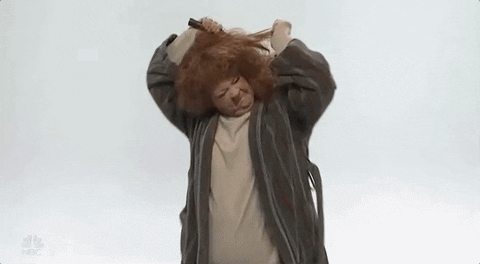 Split ends might begin to develop more frequently as the hair will probably break off at a more rapid rate as it dries out.
And all of this leads to having to use more product, because product does not go as far on unhealthy hair.
Give It A Try!
If you're a frequent washer, try just going an extra day, and see what you think!
If you don't feel too comfortable, grab a bottle of dry shampoo (this is one of those items that I would take with me to a desert island if I could only take two items), and spray it in at the roots in the morning before styling.
This should absorb lots of oil, and no one will be any the wiser!!
It's well worth a shot.
Healthy hair is a result of many things, and preserving the natural oil is undoubtedly one of them.
I think you'll be happy you tried it.
Find Some Of My Favorite Hair Care Products Below?
If you have any questions or comments, please feel free to leave them below, or shoot me an email at darci@mykissandmakeup.com.
As always, have a beautiful blessed day!